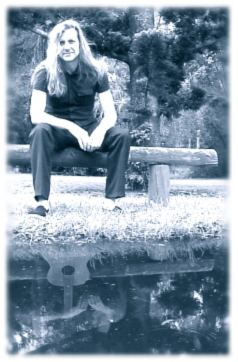 In live performance, John is able to captivate and hold an audience through both his technical prowess and the sheer diversity of his music.
The secret of John's long-standing success is in choosing cover songs from a wide range of musical styles, and mixing them with his original tunes; this provides a platform for both his vocal poetry and guitar virtuosity.
John is committed to his art, and uses music as a way of exploring the heart and soul of his life experience and the world around him. His music has been described as humorous, introspective, profound, and brilliantly original.
John's hands surge and flourish over every part of the fretboard, his performances becoming as much a visual display as an acoustic experience.
John Malcolm is a solo performer who has consistently enthralled Brisbane audiences for some 25 years. He holds records for long residencies; 10 years at the Story Bridge Hotel and 12 years at the Embassy Hotel in the city centre.
Although best known as a soloist, he has also led bands including The Arrows, Electric Pudding, and Garaj Mahal. He performed at and throughout Expo 88 in Brisbane and Expo 2000 in Hanover, Germany. Festival appearances include Woodford Folk Festival, Frankston Guitar Festival, Island Vibe, The Beechmont Blue Stomp, Port Fairy Folk Festival, Blues on Broadbeach, the Gold Coast International Blues Festival, Western Australian Folk Festival, Longford Folk Festival, The Liffey Festival, The Basin Concert, Summertime Blues Festival, Blues Up the Creek , The Reef Festival,The Mary River Festival, and the Gympie Muster . His music covers an incredibly broad range of styles all featuring spontaneity, heartfelt delivery and captivating world-class guitar technique.